A photographer introduces herself
We work very successfully with the photographer Ana Garcia. She works passionately and her results are both professional and very warm. We don't want to keep this great woman from you and we are even more happy that Ana Garcia has agreed to share a little portrait of herself with us. She really loves what she does and manages to capture the love of every wedding in her pictures…but read for yourself, enjoy!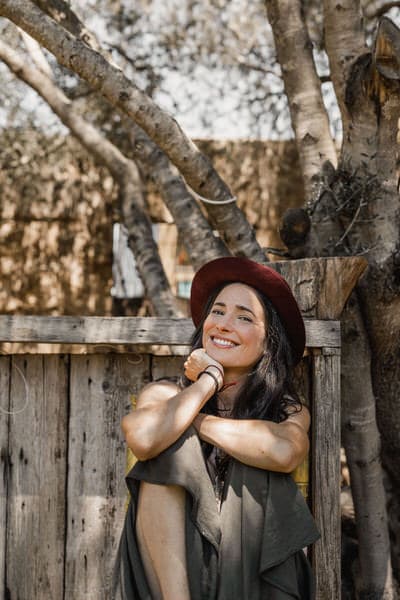 Ana Garcia:
One could say that I am in love with my work, in love with those couples who decide to announce their love by celebrating it.
I love to surround myself with that brilliant and pure love that is found in weddings, not only that of the couple but also that of family and friends.
After 7 years dedicated to documenting weddings, I still cry in the infinite moments of love that I find in each one, those sincere embraces and the beautiful words and intentions of the speeches, those looks of love and adoration of the bride and groom reach the deepest part of my heart and fill me with gratitude for having this luck dedicating my work to LOVE.
I love those intimate weddings in a farm surrounded by nature, the birds flying and singing freely, the magic of the wisdom of the trees along with the colors of the flowers in which bees flutter pollinating and thus creating more life and love, an infinite cycle like that of the family. And suddenly, I find myself smiling all the time as I work, but not just me! If I look around me, everybody smiles, everybody is happy. I see Jutta, Ina, Corinna and Katja smiling, enjoying their work and everything going perfect as love is. And if I look even further, I see smiling at the sun, smiling at nature for this ceremony of union for love.
I remember a wedding in which an atmosphere of purity and harmony governed the place, providing a well-being that ran through all my senses. A small intimate wedding in which Ina with her splendid smile and her kind dedication ensured that everything was perfect and harmonious.
The lucky ones were Julia & Steffen with her precious baby and guests in a farm in the Soller valley called Ca's Hereu, surrounded by immense mountains that when contemplating them and seeing me wrapped in them, their grandiosity reminded me of what life really is about: LOVE.
If you would like to know more about this talented photographer, visit her website https://www.anagarciaphotography.com/en/or find her online in social media such as Instagram. Thank you Ana, for your trust and this magical impression of your great work!